To calculate the inverse sine value of the input numeric value in R, use the asin() function.
asin in R
The asin() is a built-in R trigonometric function that computes the sine inverse of the given value; the returned angle is in the range -pi/2 through pi/2. The asin() method accepts vectors and returns the inverse of sine value.
Syntax
Parameters
The asin() function takes a column to compute on.
Example
Define two vectors and pass them to the asin() function.
v1 <- -1




v2 <- 0.5





asin(v1)




asin(v2)
Output
[1] -1.570796
[1] 0.5235988
If you pass the 0 to the asin() function, it will return 0.
Output
Plot the asin() function to a graph
We can use the seq() function to create a series of values and pass that to the plot() function, which will create a line chart.
dt <- seq(-1, 1, by = 0.05)




plot(dt, asin(dt), typ = "l", col = "red")




abline(v = 0, lty = 6, col = "blue")
Output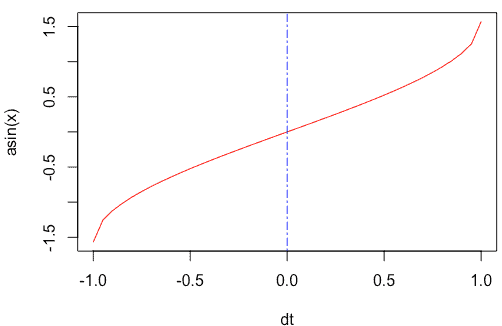 Applying asin() function to a Vector
To define a Vector in R, use the c() function. Then pass that vector to the asin() function.
rv <- c(-1, 0.5, 0, 0.5, 1)




asin(rv)
Output
[1] -1.5707963 0.5235988 0.0000000 0.5235988 1.5707963
Passing a pi to the asin() function
The pi is an inbuilt constant in R programming, and its value is 3.141593.
Let's find the pi constant's asin() value.
Output
[1] NaN
Warning message:
In asin(pi) : NaNs produced
You can see that it returns NaN(not a number) in the output.
Let's see another example of pi.
Output
That is it for this tutorial.
See also
Krunal Lathiya is an Information Technology Engineer by education and web developer by profession. He has worked with many back-end platforms, including Node.js, PHP, and Python. In addition, Krunal has excellent knowledge of Data Science and Machine Learning, and he is an expert in R Language. Krunal has written many programming blogs, which showcases his vast expertise in this field.